Dionne Williams
D. Williams Public Relations
dionne@dwilliamspr.com
708-953-0339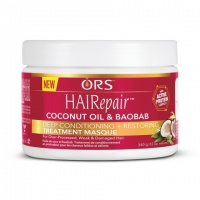 (BPRW) ORS Expands its HAIRepair Portfolio with New Treatments Designed to Restore and Protect Over-Processed, Heat-Damaged Hair
(Black PR Wire) CHICAGO–(BUSINESS WIRE)– Namaste Laboratories, makers of ORS hair care, continues to expand its HAIRepair portfolio with two new reparative treatments formulated to condition, treat and protect textured hair. Its new Deep Conditioning + Restoring Treatment Masque and Restore + Heat Protect Multi-Benefit Serum feature Coconut Oil, Baobab and Active Protein Complex to help rescue over-processed and heat-damaged hair. These new products are now available at select Target, Walmart and local beauty supply stores.
This press release features multimedia. View the full release here: https://www.businesswire.com/news/home/20190522005130/en/
"These newest HAIRepair treatments were created to deliver the next level of performance-driven innovation to our consumers," says Nicole Ray Robinson, Marketing Category Head at Namaste Laboratories. "ORS has always been committed to creating products that harness the best of nature to optimize hair health. With HAIRepair we start with naturally reparative powerhouse ingredients as the foundation of our formulas. Our newest treatments feature premium-quality, leading-edge hair repair technology to maximize performance—repairing and strengthening strands from within."
The new HAIRepair products are formulated with an innovative hair-strengthening active, Active Protein Complex, which penetrates into the cortex to strengthen strands from within while helping hair to resist damage and prevent breakage. This high-performance active ingredient is complemented by naturally nourishing Coconut Oil, which is proven to penetrate the hair shaft and increase hair strength by reducing protein loss. Omega- and protein-rich Baobab from the African "Tree of Life" works to help repair damaged hair, increase hair strength and elasticity, and protect strands from damage caused by chemical and heat stress.
With a large portfolio of haircare developed specifically to address the unique needs of textured hair, the Company has been focusing on its HAIRepair collection to offer consumers the perfect fix to counteract the hair-damaging effects of daily styling, chemical treatments, excess heat and environmental aggressors—all key concerns for consumers with textured hair.
"HAIRepair has been an under-the-radar brand that we're really excited to bring to the forefront. We know that our consumers are seeking fixative hair solutions to eliminate dryness, get rid of damage, and strengthen weak hair. This is the reason for being of our HAIRepair collection and of our newest HAIRepair treatments," says Robinson.
NEW! HAIRepair Deep Conditioning + Restoring Treatment Masque 12 oz. net wt. & 1.75 oz. net wt. sizes (SRP $8.99 & SRP $1.79) is an intensive treatment masque formulated with hair-penetrating Coconut Oil, reparative Baobab and Active Protein Complex to deeply moisturize, strengthen and restore over-processed, weak and damaged hair. This deeply conditioning formula is made with multiple sources of plant-derived protein to help strengthen hair and protect against breakage.
NEW! HAIRepair Restore + Heat Protect Multi-Benefit Serum 4.3 fl. oz. (SRP $7.99) is a multi-functional treatment serum designed to restore moisture and strength to damaged and heat-styled hair with nourishing Coconut Oil, reparative Baobab and hair-strengthening Active Protein Complex while helping to protect against damage from thermal styling tools. This multi-tasking formula delivers 3-in-1 benefits to help repair and strengthen strands, improve hair look and feel, and protect from heat up to 420° F.
The full HAIRepair Coconut Oil & Baobab Collection includes:
HAIRepair Invigorating Shampoo 12.5 fl. oz. (SRP $5.99) – Sulfate-free formula gently cleanses while nourishing and helping reinforce strands to revive damaged hair and dry scalp
HAIRepair Restoring Conditioner 12.5 fl. oz. & 1.75 fl. oz. (SRP $6.99 & SRP $1.59) – Rich restorative conditioner rehydrates and fortifies while helping improve strand elasticity and moisturizing dry scalp
HAIRepair Vital Oils 6 fl. oz. & 4.3 fl. oz. (SRP $7.99 & $5.99) – Lightweight hydrating oil blend for hair & scalp nourishes and conditions without weigh down
HAIRepair Intense Moisture Crème 8 oz. net wt. & 5 oz. net wt. (SRP $7.99 & $5.99) – Ultra moisturizing crème delivers a surge of intense hydration to quench thirsty, moisture-depleted hair
HAIRepair Anti-Breakage Conditioning Crème 8 oz. net wt. & 5 oz. net wt. (SRP $7.99 & $5.99) – Multi-tasking crème rehydrates and fortifies to help reduce breakage while delivering a healthy-looking shine
HAIRepair Hair Polisher 6 fl. oz. (SRP $7.97) – Lightweight polisher helps replenish and seal in moisture to enhance shine
HAIRepair Silkening Serum Thermal Protector 4.3 fl. oz. (SRP $6.99) – Oil-enriched serum formulated to help protect hair from thermal damage
For more information about ORS™ HAIRepair™, visit orshaircare.com or follow us on Instagram @orshairepair and Facebook at facebook.com/orshairepair.
ABOUT ORS™
ORS™ is the Original Root Stimulator™. A leading brand in the ethnic hair care market, ORS™ provides a wide range of healthy hair maintenance and styling solutions for all hair types, textures and styles. Founded in 1996 to fill a void in the market for healing hair care specifically for women and men of color, ORS™ aims to meet the hair care needs of health-conscious, style-seeking multicultural consumers with innovative products that feature the highest quality natural ingredients to help protect and maintain hair health. The ORS™ portfolio includes ORS™ Olive Oil, HAIRepair™, HAIRestore™ and Curls Unleashed™. ORS™ products are available at national retailers, fine beauty supply stores and orshaircare.com.
For more information about the ORS™ portfolio of brands, please visit orshaircare.com, or follow us on Instagram (@orshaircare, @orshairepair, @orscurlsunleashed), Facebook (facebook.com/orshaircare, facebook.com/orshairepair, facebook.com/curlsunleashed), and Twitter (@orshaircare).
ABOUT HAIRepair™
At HAIRepair™ we create hair fixes designed to address specific damage concerns—from simply replenishing depleted moisture to helping strengthen weak strands and revitalizing damaged and overworked hair. Formulated to rescue strands in distress, HAIRepair™ fixes feature a combination of nutrient-dense oils and plant extracts known to naturally nourish and repair. Find select HAIRepair™ fixes at Target, Walmart and Walgreens stores/online. The full line of HAIRepair™ fixes can be found at beauty supply stores nationwide and at orshaircare.com.